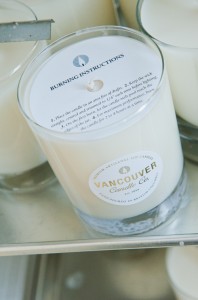 I first met Nick and his partner Farouk, when I co hosted the Summer St. Soirée at the end of June with Modern Fort. I was immediately drawn to the design of the packaging and liked how the communities of Vancouver were incorporated into the candle scent names. Perfect for travel – the candles also come in tins too (thank goodness because my bag already weighs a ton!)
Here is 5 minutes 5 questions with talented candle maker, Nick from Vancouver Candle Co.:
1) How long have you lived in Vancouver?
I permanently settled in Vancouver in 2012 from San Diego, California. I went to UBC, and after I met Farouk, settled here.
2) How did you start Vancouver Candle Co.?
I started Vancouver Candle Co. to share my love of candles. I purchased an expensive candle from an interior design store that burned poorly. After researching why, I discovered a lot of candle companies use nasty, potentially harmful ingredients in the candles. I decided to make my own.
3) What is your favourite neighbourhood in Vancouver and why?
My favourite neighbourhood is Strathcona. We just bought a cute heritage home there and can't wait to move (Sept 4 and counting down the days). We love the old-meets-new and friendly mix of people. The neighbourhood is so magical!
4) Describe your favourite scent in a sentence.
My favourite scent is Point Grey. I love the earthiness of it.
5) What are the top three characteristics on your Love List (characteristics or qualities you are looking for in a potential mate or current mate)?
Sense of humour, generosity, integrity.
Don't forget to follow Vancouver Candle Co. on IG: @VancouverCandleCo. Twitter: VanCandleCo. and 'Like' them on FB!
ELENA:)