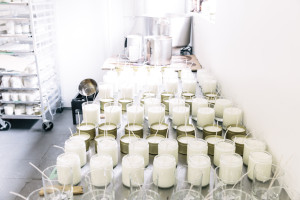 I first learned of Woodlot from Melissa at Old Joy Gift Boxes ages ago. And after months of Instagram conversations, I finally met Sonia at a pop up shop at West Elm. Because we are both pretty busy people, I feel like the only time I get to see Sonia is at an pop up event – so I was happy that Woodlot was able to participate in the Summer St. Soiree.
Although I have yet to purchase a signature candle, the body spray and the bath salts definitely have my endorsement! Can't wait for my friends to try them.
Here is 5 minutes 5 questions with the lovely, talented busy bee, Sonia from Woodlot:
1) How long have you lived in Vancouver?
My entire life! 🙂
2) How did you start Woodlot?
My partner and I wanted to share toxin free products for home and body with friends and family. We both had recipes that were passed down to us and started to make + share them. We worked with a good friend on design, and started to get some interest from shops locally and internationally.
3) If you could advise a new business owner of something, what would it be?
Launch before you think something is perfect. We've learned a lot about packaging, design and our customers by launching earlier. Things can get $$$ with printing minimums, packaging minimums, so I think it's best to get your product out there and into peoples hands. Get people loving your product, and then focus on other details when you have a better understanding of who your customer really is. Also, focus on sales, sales, sales.
4) Describe your favourite scent in a sentence.
Petrichor is the earthy scent produced when rain falls on dry soil.
5) What are the top three characteristics on your Love List (characteristics or qualities you are looking for in a potential mate or current mate)?
Communication, Affection & Trust
Don't forget to follow Woodlot on IG and Twitter: @shopwoodlot and 'like' on FB!
ELENA:)