I can't believe that there is 5 days until Christmas!!!
I used the last of my vacation time to venture off to NYC in early December and I thought you might want to know a little about my adventures. This is a short summary with more details to follow!
TUESDAY: Checked into The Renwick, (a cool new boutique hotel on east 40th in between Park and Lex) and went to visit my friend Nizim from Labeling Men and had dinner at Bill's Food & Drink on 54th. Bill's Food and Drink is one of Chef John Delucie's restaurant. Bedford & Co is his latest venture at the Renwick which is slated to open very very soon! (Comment: Actually it's not going to open until spring 2016) Things to note – my room had a lovely floral arrangement from Uprooted Flower Truck (NYC's first flower truck) to brighten my stay and I got to snack on some yummy ginger people made by Sweets by Olivia (which only lasted a night!).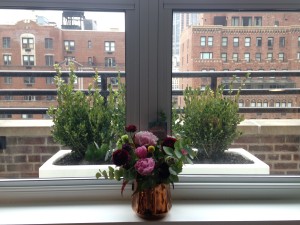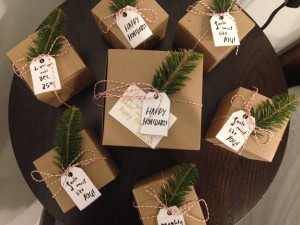 WEDNESDAY: Hair and makeup with Anthony and Bianca for a Flytographer shoot in Soho. I got to wear my new Christmas/Birthday present to myself, a Proenza Schouler cashmere coat which I love. (More photos in a future post). Uber was crashed when I needed to rush to an important meeting at the Surrey Hotel but I managed to get there eventually after walking 20 blocks in heels and paying $30 for car service. Sheesh. Dinner at Marta with a friend from BluBird Vancouver.
THURSDAY: A breakfast meeting at Le Pain Quotidien followed by an amazing tour of Ciner manufacturing (future post coming up) was on the schedule. In the evening, I surprised the creative fashion illustrator Elaine Biss at her French Connection event. After, I got to meet Alexis Bittar at his holiday meet and greet. Then finally, to my trainers delight, I got to eat a chicken burger at Fuku.
FRIDAY: A breakfast meeting at The Smith (I totally recommend) and a stop in with Editor-In -Chief, Courtenay C. Hall from Bella New York Magazine. I made a pit stop at Century 21 of course and had a few moments uptown to take some photos of beautiful Bergdorf window displays before heading downtown to dinner at Hundred Acres.
SATURDAY: A stop into Creeds Collective Pop Up Shop which was conveniently located across the street from the brunch spot Santina under the High Line.  I managed to pick up some salt water taffy from Salty Road from Brooklyn. With an hour to spare to leave to airport, I went to & Other Stories new 5th avenue spot and bought a pair of booties.
ELENA:)