Do you ever wish you had a concierge for all your beauty appointments? When I travel, I usually need my nails done, my eyebrows tweezed and certain areas waxed. What if there was a service that could help you make those appointments working with your schedule and your specific needs or preferences?
Say hello to Unplugg's Club U. Fill out your SmartFit Profile and you receive up to 4 options of spas available for your desired service catering to your location and timing preference. Once you book, all you have to do is show up and the service is then billed to your credit card on file.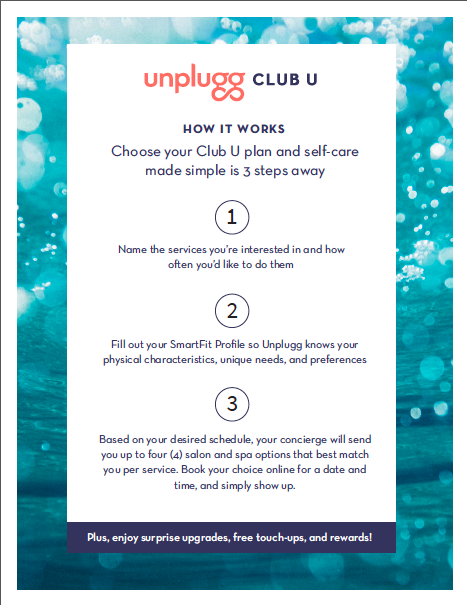 I was recently in NY and needed a specific neutral shade on my nails for a commercial I was shooting the following day. While I was too busy to get it done ahead of time, I easily found a place close to my first meeting location within walking distance. I booked with Club U and voila, all I had to do was show up at the allotted time and complete my service. I was off to my next meeting in no time.
I liked how there were a few options suggested in my preferred area based on the vibe of the spa (relaxing or no frills) and expertise of the nail techs (nail art or basic). All very important. With the holidays in full swing you can even pick up a gift certificate for a friend to enjoy during this busy time. The best part is that once you are a Club U member you can start to collect points for upgrades, free touch ups and my favourite – rewards!
ELENA:)